Investment banking is a demanding field that requires powerful and efficient technology to handle complex financial modelling, data analysis, and research tasks. Having the right laptop is essential for investment bankers to maximize productivity and stay ahead in a competitive industry. This comprehensive guide will explore the key factors to consider when choosing the best laptop for investment banking in 2023. By the end of this guide, you'll be equipped with the knowledge to make an informed decision.
Investment banking involves financial analysis, data modelling, and research, which require a reliable and powerful laptop. A laptop that meets the specific needs of investment banking professionals can enhance efficiency, improve workflow, and provide an edge in a fast-paced industry.
Key Factors to Consider
When selecting a laptop for investment banking, several key factors should be taken into account:
Processing Power and Performance: Investment banking involves running complex financial models and data-intensive applications. Look for laptops with high-performance processors, such as Intel Core i7 or i9, or AMD Ryzen 7 or 9, to ensure smooth multitasking and quick data processing.
Display Quality and Size: A clear and vibrant display is crucial for investment banking professionals who work extensively with spreadsheets, financial reports, and charts. Opt for a laptop with a high-resolution display (at least Full HD) and a size that suits your preference, typically between 13 to 15 inches.
Storage Capacity and Speed: Investment banking involves handling large datasets and files. Choose a laptop with ample storage capacity, preferably a solid-state drive (SSD), for faster data access and improved overall performance.
Portability and Battery Life: Investment bankers often work on the go or in different locations. Consider a lightweight, slim, portable laptop, ensuring easy transportation between meetings. Additionally, look for a laptop with a long-lasting battery to sustain productivity throughout the day.
Graphics Processing Unit (GPU): While not a primary requirement for investment banking tasks, a dedicated GPU can be beneficial for handling data visualization, complex charting, or running specialized financial software. Consider a laptop with a dedicated GPU if you require advanced graphical capabilities.
Memory (RAM): Adequate memory is essential for multitasking and running resource-intensive applications. Look for a laptop with at least 16 GB of RAM to ensure smooth performance during data analysis and financial modelling.
Connectivity Options: Investment banking professionals often require multiple connectivity options to connect to external monitors, projectors, or peripherals. Ensure the laptop has an array of ports, including USB, HDMI, and Ethernet, to facilitate easy connectivity.
Keyboard and Trackpad: A comfortable and responsive keyboard is essential as investment bankers spend significant time typing and working with spreadsheets. Test the keyboard and trackpad before purchasing to ensure they meet your ergonomic needs.
Security Features: Security is paramount in investment banking. Look for laptops with robust security features such as fingerprint scanners or facial recognition for secure login and additional security measures like TPM (Trusted Platform Module) and privacy filters to protect sensitive data.
Software Compatibility: Investment banking professionals rely on various software applications, including financial modelling tools, data analysis software, and industry-specific platforms. Ensure that the laptop is compatible with the necessary software and can handle the demands of these applications.
Price Considerations: Investment banking laptops can vary significantly in price. Determine your budget and consider the laptop's value in terms of performance, durability, and features.
You can also read our guide on: Why Gaming Laptops Are Heavy
Top 5 Best Laptops for Investment Banking
There are many things to consider when buying a laptop. It would help if you decided, based on your priorities and budget, to find a reliable device. However, here's a list of notebooks that can help you decide: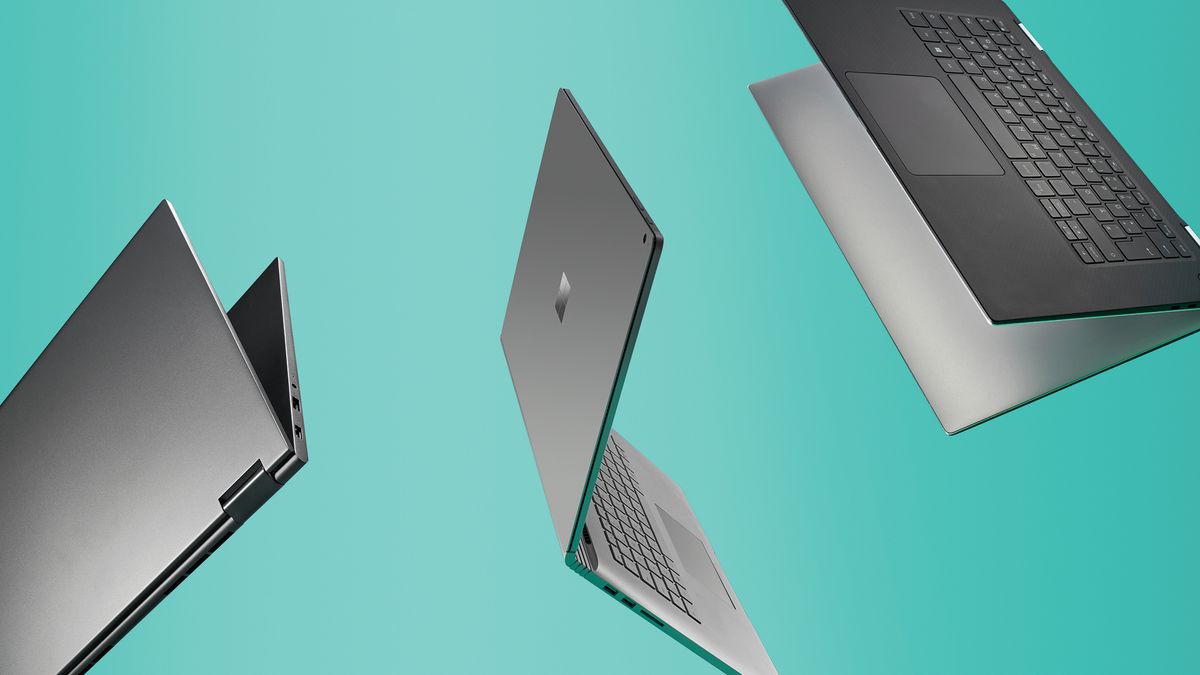 The Dell XPS 13 is one of the best laptops with high-quality performance. This laptop can be considered cheap when looking at the features it offers. It has a powerful processor and high memory capacity. The laptop has an excellent high-resolution display with a long battery life of up to 9 hours. Along with all these features, it is thin and lightweight, making it easy to carry around. It also has a touchscreen display which can assist during presentations or data analysis.
One of the most affordable high-quality Laptops on the market is the Apple M2 Macbook Air which, like its predecessor, has the latest hardware with one of the fastest processors on the market. The M2 chip, which due to Apple's integration, increases its performance and allows it to handle complex tasks. The device has a wonderful 13.6-inch liquid retina display with fast memory and an SSD that provides a great user experience. All of these components combined make it an excellent device for Embroidery Digitizing.
Like other laptops, Lenovo Thinkpad X1 has a great processor and memory, allowing a smooth workflow for you. The speciality of this laptop is that it has an upgradability feature. If needed, you can upgrade the laptop's memory and storage which can save you money on an upgrade.
According to experts, this laptop has one of the best keyboards on the market.
Microsoft Surface Pro 8 is a great Laptop with incredible design and performance. It has high-quality hardware that smoothly provides the best laptop experience. It features an Intel Evo Platform Core i5 processor and can easily handle browsing and even challenging tasks like graphic designing.
The Surface Pro 8 enables you to touch and draw, a great feature for a therapist. Using a stylus, the user can quickly insert and process data. It also has an excellent battery that lasts up to 10 hours and quick charging.
The Dell Inspiron 15 Laptop features Intel's 10th Gen Core i5 Processor with Intel Graphics which is compatible with the latest Software. The Laptop comes with 12 GB of RAM and a 256 GB SSD. The Laptop has Windows 11 installed and fast charging, making it an excellent Laptop for all kinds of tasks. It also has 6+ hours of battery life making it very reliable and suitable for travellers.
Conclusion
Investment Banking requires laptops with considerably high specs, and it's best to do your complete research before purchasing a laptop. Consider your priorities and what you expect from your device to make the best decision possible.
The processor, memory, and storage are the key factors in choosing the ideal laptop for your field.