Just got a new device and worried about getting it damaged? Whenever we buy a new device, whether a laptop or a mobile phone, we handle it carefully for a few days, and then we get careless. When you purchase a new laptop, you want its shine and glossiness to last forever. However, their condition will deteriorate if you don't take care of your devices.
With daily use, your laptop is bound to get scratches and scuffs. These scratches will make your laptop look ugly and old. I'm sure you are here to learn how to keep your laptop safe from getting damaged. Here are a few ways to protect your device.
Laptop Bag
If you are constantly moving about with your laptop, a bag specifically made for a laptop is necessary. Laptop bags can keep your laptop from falling and getting damaged. These bags have padding, which protects your device from unwanted marks. Laptop bags are also very compact, which makes them easy to carry. They also have multiple pockets to keep your extra accessories, such as a charger, headphones, etc.
While if you carry your laptop in your bag with your books, keys and stationary, it's highly likely to get a few scratches. Laptop bags come in cool modern designs, so you can choose a bag you like.
Screen Protectors
The most critical area on your laptop that is prone to damage is your screen. When you purchase a new device, you should first install a screen protector, especially if your laptop has a touch screen. A screen protector will protect your laptop from dust, and you can get an anti-glare laptop to keep it away from fingerprints.You can also spend a little on micro fibre cloth and a screen cleaning spray to clean your laptop's screen efficiently.
You can spend more and buy a tempered glass protector which has an extra hard layer and maintains responsiveness. They are also anti-glare, giving you the best overall protection for your device. Modern laptops come with anti-glare screens to give you the best experience.
Here's a video on How to Clean your Laptop:
Keyboard Protector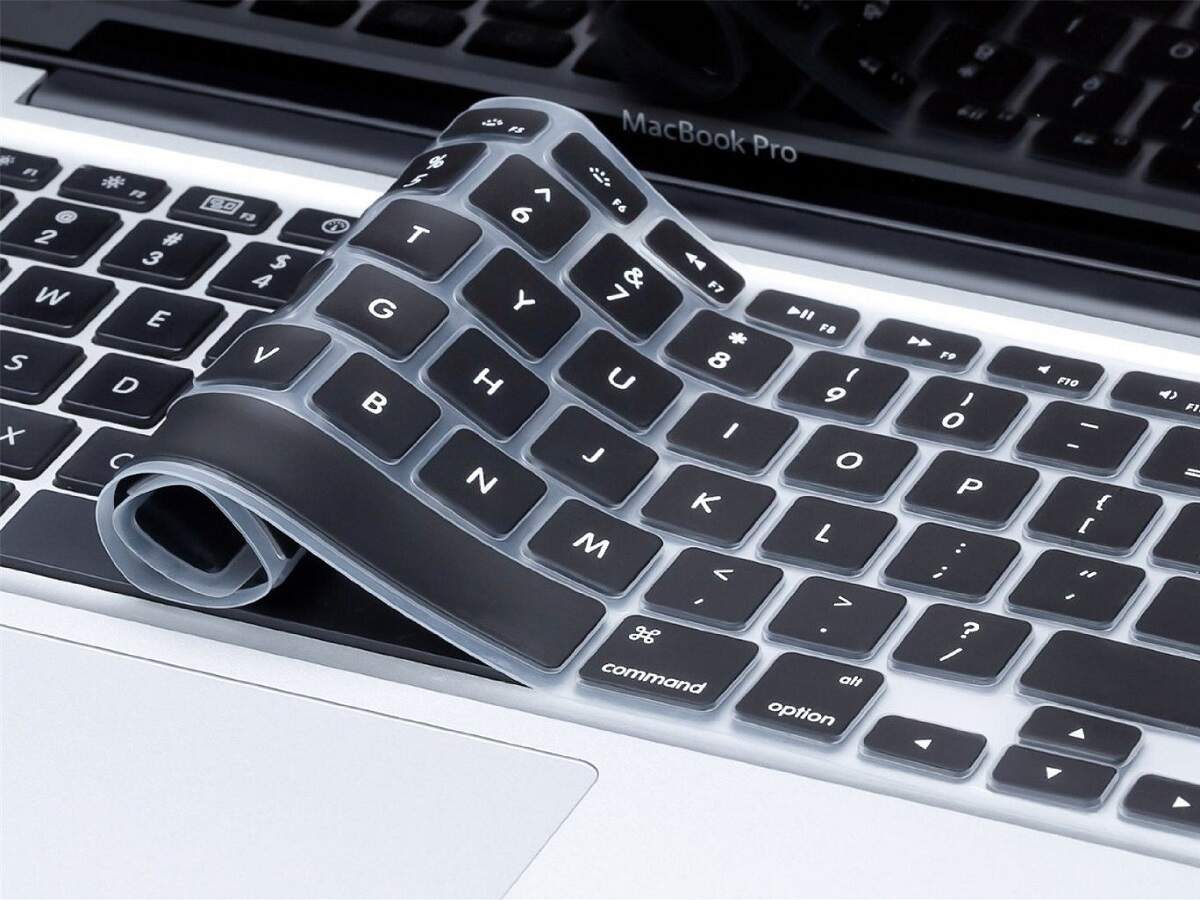 With frequent use, there is a high probability that your laptop's keyboard will start getting stuffed with dust. It can even lead to your keyboard's keys being jammed. In the case of gaming laptops, they contain backlit keyboards, so the RGB lights behind the keyboard can get damaged. Keyboard skins are a great way to keep your keyboard away from damage. Most of these skins are also waterproof. In case of a spill, your laptop will be safe.
Keyboard skins are a great way to customize your laptop because they come in different styles, colours and designs. They are easy to apply, and you can clear off debris from time to time by cleaning it with water.Another way to clean the dust on your keyboard is by using a cleaning slime.
Protect your Laptop from Overheating
Another important way to guard your laptop is to keep it cool. An overheating laptop can lead to its internal components being damaged. It shortens your laptop's lifetime, and its screen degrades over time, making it prone to scratches. The cooling fans should be cleared of dust every few weeks to keep your laptop from overheating. After six months of use, you should also reapply the thermal paste on your processor.
Laptop Sleeve
If carrying a laptop bag is a hassle, laptop sleeves can be the way to go. They make carrying a laptop more effortless. Unlike bags, they are very compact and can enable you to carry your laptop in your hand. They have soft padding that protects your laptop and come in exciting designs and colours.
Abstain From Eating And Drinking Near Your Laptop
Munching while watching your favourite shows has become a common practice among us. It might not like a big issue right now, but it can damage your laptop in the long run. Crumbs that fall on your laptop can damage your keyboard. They can also lead to blocks in the vents and even harm your cooling fan.
Drinking can be equally dangerous. Spilling liquid on your laptop can cause instant damage to your laptop, particularly if the motherboard is affected; the damage caused can be permanent. As talked about earlier, this can be reduced by buying a waterproof keyboard skin. If someday you spill on your device, place it upside down to minimize damage and use a hair dryer to dry your laptop.
Conclusion
Protecting your laptop from physical damage is necessary. Keeping your laptop safe from damage can last longer and help keep its shine. It can even be beneficial to you if you happen to sell your laptop, and can you get some extra bucks if it's in good condition. The methods told in this article can help keep it safe though ultimately, it depends on your usage and how much you care about your device.